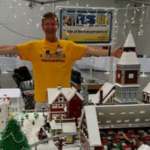 @greg
active 11 hours, 44 minutes ago
Thanks for making the effort. I see now, that you sent a message through this website, but I almost never receive messages there. If you see some in Cleveland, I would like to have an entire large PaB cup of the, white modified plate downward tooth parts. I'm not sure what I will do with them, but winter scenes seem to have become my focus,…[Read more]

Is there anything to report from the LEGO store? The online Pick-a-Brick wall inventories are often out of date.

Yesterday SteelCity's Micah Beiderman won his semi-final round and made it to the finals of the Battle of the Bricks. Th photo of last night's winning creation is in our flickr stream. Good luck @hacim!

Dude, this is good news on so many levels. Are you going to the brickfest-0type event in Chicago? Are you willing to pickup parts at the LEGO store? I might ned a couple of cups of white tooth-shaped modified plates, where the teeth hang down. More details to follow.

I have not contacted the person with the craigslist ad in Cranberry, I figured that anyone able to pick up the set would arrange a convenient time and place.

If anyone in Cranberry ( @timf @solscud007 ) cares to pick this up for me, I'll repay you. Just verify that the red-headed minifig is in it.

Is anyone building anything, you know, out of LEGO, by any chance? We have so many members and so few posts. What happened to all those LUGbulk parts that people ordered? We have a bunch of events coming up … what are yinz doing?

Who is Steel City Bricks on bricklink?

Steve, thanks for introducing yourself. Are those all original LEGO trees in your photo?

Also, did you see the thread about @laura 's dream about a "tall ships" display at the Washington trolley museum this summer? It seems like the USS Constellation would fit right in with that display.

Why is it that I can get a shirt printed with this copyrighted logo from a seller in France, but no where…[Read more]

These would be awesome if they were were about 30 inches taller.

This 6 AM perspective shows the decapitated spruce and the maple that was wiped out by the oak.

Other people have done a good job of mocking brickheadz.